I've never been one of the vi or emacs brigade — when editing code (mainly PHP and Python), I've always found it easiest using a lightweight editor (together with a local server).

Since moving to Linux full-time several years ago, I've been on the look-out for an editor I really liked. On Windows, I liked Notepad++ — it did everything I needed with panache, and never got in the way.
On Ubuntu, I've stuck with gedit, with several plugins, including the Symbol Browser from Micah Carrick. I tried, at various times, jEdit, gPhpEdit, and even Eclipse — but they all just 'got in my way' too much. gPhpEdit came close, but I found the function list wasn't always accurate.
However, three things prompted me to look elsewhere again: First, it was choking on some sql dumps I was editing; Second, the symbol browser stopped working in Karmic; and Third, I still hate the shortcuts. I still prefer ctrl-Y for "redo" rather than "ctrl-shift-Z", and I really, really need a shortcut (ctrl-D) for "duplicate this line".
So, I just came across Geany — it's great. It's fast, configurable, stable, has a great symbol browser, has the shortcuts just right, and doesn't get in my way.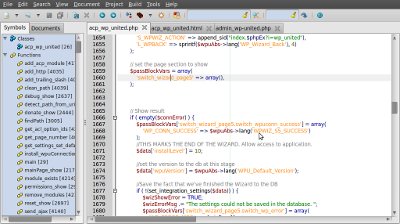 It seems that Geany's been around for a while — and is even part of the standard image on some lightweight linux distros. But this is the first time I've come across it — and I'm glad I did.